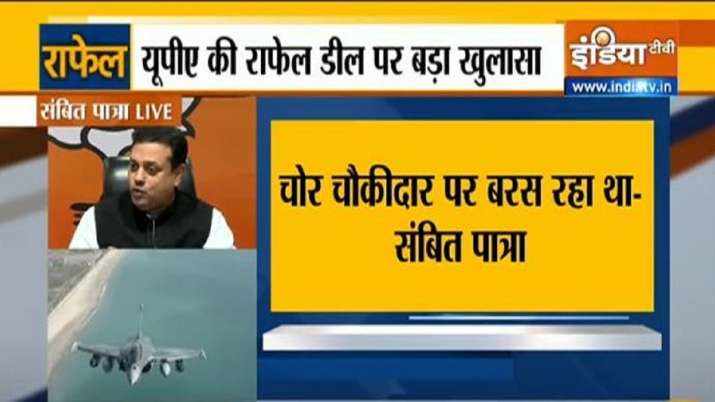 New Delhi. Regarding Rafale's alliance with India, the French research magazine 'Mediapart' also reported corruption. Following the publication of the magazine's report, a major overhaul of Congress and the BJP has taken place. BJP spokesman Sambit Patra said the true meaning of INC is that I want a Commission. He said that today when the media outlet brought out the truth through the story, it was sad to know that Rafale's case was a corporate affair and there was a very serious conspiracy, the whole affair between 2007. and 2012. It happened.
In a revolt against Congress, the BJP claimed that Congress leaders Rahul and Sonia Gandhi had violated the entire Rafale coalition committee's record. BJP spokesman Sambit Patra said in a statement that the thief was criticizing "chowkidar". Sambit said, 'There have been issues of commission payment at the rate of 40%. No talks of 2-4 percent of the Commission. Rahul ji, I wish you all the best for breaking the commission's record. Sonia ji, has broken the history of the world. This is a trade union and you lie, instead, the thief was criticizing the guard. There was no conspiracy to eat the council, but the council has been granted.
Sambit also said, 'INC does not mean the Indian National Congress but I Need Commission. Do nothing without being sent. Sonia Gandhi says I want a job. Rahul says I want a job. Priyanka says I want a job. Robard Vadra says I want a job. This list is not for today. Ever since the Congress Party, there has been a I Need Commission. Jeep scam, Bofors scam, Airbus scam, ship scam, helicopter fraud, Tetra truck scam, Congress where commission.
A BJP spokesman said, "No security agreement in India could be held during Congress without a job. Under the UPA administration, there was an agreement within the plow and yet the agreement did not end. Sambit said, "Who says there is no fraud? The fraudulent address is 10 Janpath. Since the BJP government came, corruption has disappeared, and the Gandhi family has been left helpless. We have often seen that helplessness. corruption scandals have also gone through crores, Congress has robbed people, their shame has been shamed again.